(27/08/2022) Hola a todos,
tal como se esperaba la colección sale en UK el 26-08-2022. En España aún tendremos que esperar algún tiempo, no está ni anunciada en la web es.topps.com.
La colección tiene el mismo número de cartas en las series de equipos que la temporada pasada, 387.
Las primeras 117 cartas son para siete equipos de la Premier League. Dato curios, Chelsea con nueva cards, mientras que otros de competiciones menores con 18.
Las siguiente 54 cartas corresponden equipos de LaLiga Santander a Real Madrid, FC Barcelona y Atlético de Madrid, con 18 cards por equipo, más adelante aparecen los equipos Real Betis, Real Sociedad y Villarreal CF con 9 cards cada uno, siendo un total de 81 cartas de equipos españoles. Como curiosidad, el Sevilla FC no lo han editado.
La Ligue 1 tiene un representante con 18 cartas, Paris Saint-Germain y otro más adelante con 9 cards, AS Monaco FC para un total de 27 cards.
La Bundesliga tiene 4 equipos Bayer München y Borussia Dortmund con 18 cards cada uno, Bayer 04 Leverkusen y RB Leipzig con 9 jugadores cada equipo.
La Eredivisie cuenta con dos equipos, AFC Ajax y PSV Eindhoven cada uno con 9 cartas.
De Portugal con 9 cards aparece el SL Benfinca y con el mismo número FC Porto y Sporting Clube de Portugal más adelante, siendo el total de 27 cards de la Primeira Liga.
Del Benfica decir que, igual que la temporada pasada, al disputar las rondas eliminatorias deciden editarlo sin logo de la competición, porque si hubiese sido eliminado habría entrado en el sorteo de la UEL. Si más adelante sacan algún tipo de actualización entonces editaran las cartas con el logo de la competición.
Tampoco traen logo de competición AS Monaco ni Rangers FC
La Serie A aporta 45 cards, 5 equipos con 9 cards, AC Milan, FC Internazionale Milano, Juventus, SS Lazio y AS Roma.
Los equipos representantes de la Scottish Premiership con 9 cards son Celtic FC y Rangers FC, con 9 cards cada uno.
Hasta aquí las primeras 387 cards de la colección que se distribuye en Base Cards y Mirror Foil.
Los tipos y series con sus ratios:
327 Base cards (ratio de 7,9 por sobre)
Player Cards, 266 cards

Team Badge, 31 cards, una por equipo que aparece en la colección.

Captain, 30 cards. Todos los equipos menos el Chelsea CF tienen una carta Captain.

60 Mirror Foil Cards (ratio de 2 por sobre), estas cinco series pertenecen a las cards que salen con los equipos, se editan 12 de cada serie y solo salen en los equipos con 18 cards, 1 de cada serie.
Stoppers
Warriors
Enforcers
Stylers
Matchwinners
Hay 3 cards Stoppers que estoy intentando descifrar por qué se consideran esos jugadores de campo Stoppers, ¿será que son defensas?
83 Ben White, el Arsenal FC se edita sin portero, en el orden suelen dar la segunda carta al portero, es este caso se la dan al Stopper, pero no al portero.


Las otras dos cartas son 69 Eric Dier del Tottenham Hotspurs y 184 Dayot Upamecano del FC Bayern München, en estas cartas se da el caso que si editan el portero y éste además es el capitán del equipo, Hugo Lloris y Manuel Neuer.
Con todo lo relatado concluimos que, los 12 equipos de 18 cards tienen todos las siguientes cards:
1 carta Team Badge
1 carta captain
5 Mirror Foils
11 Player Cards.
Los equipos de 9 cards (Excepto Chelsea FC) tienen todos:
1 carta Team Badge,
1 carta Captain, Chelsea FC no.
7 Player Cards, Chelsea FC 8.
63 Holographic Foil, (ratio de 1 por sobre)
27 Next Gen

9 Legends

27 Man Of The Match Signature Style
327 Crystal Foil Blue Parallel (ratio de 1 cada 3 sobres)
Estas cards son Paralles de las Base Cards.
32 15TH Anniversary Heritage Foil Card (ratio de 1 cada 3 sobres)
La temporada pasada sacaron una serie Heritage, ésta es 15º Aniversario. Ambas inspiradas en series de la MA y MAExtra de la Premier 2007/08. También en MAExtra de la temporada pasada, la serie MOTM es una copia en el diseño.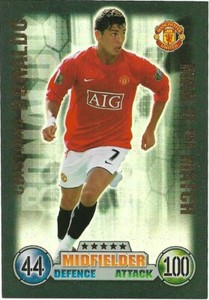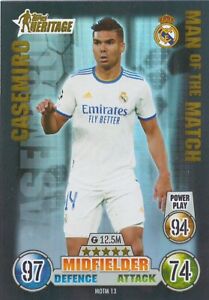 9 4ª Edición, (100 CLUB) -- 1 cada 6 sobres

Topps se congratula anunciando que por primera vez habrá 9 cartas 100Club para que encajen perfectamente en en álbum,
¿Nos toma por tontos? ¿entonces por que la serie 15TH Heritage son 32 y no son 27 o 36? Que hagan todas la series a múltiplos de 9 y se dejen de autocomplaciencia.
Decir que en esta serie hay una card Unbeatable 101 dedicada a Benzema.
9 5ª Edición, (Black Edge Edition) -- 1 cada 16 sobres
en esta serie, como su nombre indica, el color predominante es el negro y en la parte trasera es donde viene la numeración de la carta, una breve reseña del jugador y datos estadísticos, los círculos en la cabeza y pies sirve para indicar cual es la parte del cuerpo con la que ha marcado los goles,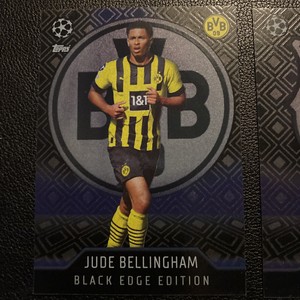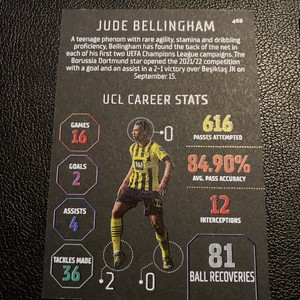 Hasta aquí 327 base + 60 Mirror + 63 Holografic + 9 100Club + 9 Black Edge + 32 Heritage=500 cartas + 327 Crystal = 827. Quedan 287 por presentar para llegar a las 1.114 del listado, aparte Paralles de series especiales que no están listadas.
20 7ª Edición, (Pro Elite) -- 1 cada 24 sobres
Yo recomiendo no cebarse con esta serie, buscad las que más os gusten, yo tengo 6 de la temporada pasada y no por ello considero mi colección menos incompleta.
20 8ª Edición (Chrome Preview) -- 1 cada 48 sobres
Un rollo que nos mete Topps en Match Attax, esto pertenece a otra colección, lo mismo que la anterior serie, buscad aquellos jugadores que os interesen y pasad de completar esta serie sin sentido.
327 1ª Edición, Básicas ( 266 Players cards+31 Team Badge+30 Captain)
60 2ª Edición, Mirror Foils ( 12 Stopper, 12 Warrior, 12 Enfoncer, 12 Styler, 12 Matchwinner)  -- 2 por sobre
63 3ª Edición,  Rainbow Holographic Foil (27 Next Gen, 9 Legend, 27 MOTM Signature Style) -- 1 por sobre
57 4ª Edición, (9 de 100 CLUB;  48 Update-New Signing) -- 1 cada 6 sobres
73 5ª Edición, (9 Black Edge Edition; 32+32 Squad Update IB+IT) -- 1 cada 16 sobres
359 6ª Edición, (32 Heritage, 327 Crystal Parallel)  1 cada 3 sobres
68 7ª Edición, (20 Pro Elite; 24+24 New Singning Update IB+IT) -- 1 cada 24 sobres
23 8ª Edición (20 Chrome Preview, 3 Update New Singning Limited Edition) -- 1 cada 48 sobres
4 9ª Edición, (Tactic Card) Launch Bundle
28 10ª Edición, (Gold Limited Edition)
4 11ª Edición, (Blue Limited Edition)
16 12ª Edición, (4 Limited Edition Comander, 4 Finisher, 4 Playmarker, 4 Wonderkid) -- Mega Tin
4 13ª Edición, (Limited Edition Neon Booster) Mini Tin  
45 14ª Edición, ( 32 Genunine Autograph, 13 Combo Autograph)
35 15ª Edición, (3 Player-Worn Boot Relic; 24 Jersey Relic, 8 Memento Relic)
13 16ª Edición, (Festive Card, Festive Limited Edition) Advent Calendar
88 17ª Edición, Cards 1st Edition (Pack 1st Edition)
9 18ª Edición, Exclusive Superstar (Pack 1st Edition))
0 19ª Edición, (Match Attax On Demand)
4 20ª Edición (2+2 Dynamo+Epic - Exclusive Edition)

LISTADO MATCH ATTAX UEFA CHAMPIONS LEAGUE, UEL, UECL 2022-2023
Chelsea FC
1   Team Badge
2   Edouard Mendy
3   Thiago Silva
4   Reece James
5   Ben Chilwell
6   N'Golo Kanté
7   Mateo Kovačić
8   Mason Mount
9   Kai Havertz
Manchester City FC
10   Team Badge
11   Ederson (Stopper)
12   Nathan Aké
13   Rúben Dias (Captain)
14   Aymeric Laporte (Warrior)
15   John Stones
16   João Cancelo
17   Kyle Walker
18   Rodri (Enforcer)
19  İlkay Gündoğan
20   Kevin De Bruyne
21   Bernardo Silva (Styler)
22   Phil Foden
23   Jack Grealish
24   Riyad Mahrez (Matchwinner)
25   Oleksandr Zinchenko
26   Julián Álvarez
27   Erling Haaland
Liverpool FC
28   Team Badge
29   Alisson Becker (Stopper)
30   Trent Alexander-Arnold
31   Andy Robertson
32   Virgil van Dijk (Warrior)
33   Ibrahima Konaté
34   Joël Matip
35   Fabinho (Enforcer)
36   Thiago Alcántara
37   Jordan Henderson (Captain)
38   Alex Oxlade-Chamberlain
39   Curtis Jones
40   Naby Keïta
41   Luis Díaz (Styler)
42   Digo Jota
43   Darwin Núñez
44   Roberto Firmino
45   Mohamed Salah (Matchwinner)
West Ham United FC - UECL
46   Team Badge
47  Łukasz Fabiański (Stopper)
48   Kurt Zouma
49   Craig Dawson (Warrior)
50   Aaron Cresswell
51   Vladimir Coufal
52   Angelo Ogbonna
53   Arthur Masuaku
54   Ben Johnson
55   Issa Diop
56   Declan Rice (Captain)
57  Tomáš Souček (Enforcer)
58   Pablo Fornals
59   Manuel Lanzini
60   Nikola Vlašić [/COLOR]
61   Jarrod Bowen (Styler)
62   SaÏd Benrahma
63   Michail Antonio (Matchwinner)
Tottenham Hotspur
64   Team Badge
65   Hugo Lloris (Captain)
66   Sergio Reguilon
67   Ben Davies
68   Davinson Sánchez
69   Eric Dier (Stopper)
70   Cristian Romero (Warrior)
71   Matt Doherty
72   Emerson Royal
73   Rodrigo Betancur
74   Pierre-Emile Højbjerg (Enforcer)
75   Ryan Sessegnon
76   Ivan Perišić
77   Lucas Moura
78   Dejan Kulusevski (Styler)
79   Harry Winks
80   Heung-Min Son
81   Harry Kane (Matchwinner)
Arsena FC - UEL
82   Team Badge
83   Ben White (Stopper)
84   Cédric Soares
85   Rob Holding
86   Gabriel (Warrior)
87   Kieran Tierney
88   Takehiro Tomiyasu
89   Fábio Vieira
90   Mohamed Elneny
91   Thomas Partey
92   Granit Xhaka (Enforcer)
93   Albert Sambi Lokonga
94   Martin Ødegaard (Captain)
95   Emile Smith Rowe (Styler)
96   Bukayo Saka (Matchwinner)
97   Nicolas Pépé
98   Gabriel Martinelli
99   Eddie Nketiah
Machester United - UEL
100   Team Badge
101   David De Gea (Stopper)
102   Eric Bailly
103   Raphaël Varane (Warrior)
104   Harry Maguire (Captain)
105   Luke Shaw
106   Aaron Wan-Bissaka
107   Alex Telles
108   Diogo Dalot
109   Scott McTominay (Enforcer)
110   Fred
111   Donny van de Beek
112   Bruno Fernandes
113   Jadon Sancho (Styler)
114   Anthony Elanga
115   Anthony Martial
116   Marcus Rashford
117   Cristiano Ronaldo (Matchwinner)
Real Madrid CF
118   Team Badge
119   Thibault Courtois (Stopper)
120   Éder Militão
121   Antonio Rüdiger
122   David Alaba (Warrior)
123   Ferland Mendy
124   Daniel Carvajal
125   Nacho
126   Casemiro (Enforcer)
127   Federico Valverde
128   Luka Modrić (Styler)
129   Toni Kroos
130   Eden Hazard
131   Eduardo Camavinga
132   Marco Asensio
133   Vini Jr. (Matchwinner)
134   Rodrygo
135   Karim Benzema (Captain)
FC Barcelona
136   Team Badge
137   Marc-André ter Stegen (Stopper)
138   Sergiño Dest
139   Jordi Alba
140   Eric García
141   Gerard Piqué (Warrior)
142   Andreas Christensen
143   Ronald Araújo
144   Óscar Mingueza
145   Franck Kessié (Enforcer)
146   Sergio Busquets (Captain)
147   Gavi
148   Pedri (Styler)
149   Sergi Roberto
150   Ansu Fati
151   Ferran Torres
152   Memphis Depay
153   Pierre-Emerick Aubameyang (Matchwinner)
Atlético de Madrid
154   Team Badge
155   Jan Oblak (Stopper)
156   Stefan Savić
157   Mario Hermoso
158   Felipe
159   José María Giménez (Warrior)
160   Renan Lodi
161   Reinildo Mandava
162   Geoffrey Kondogbia
163   Koke (Captain)
164   Marcos Llorente
165   Rodrigo de Paul (Enforcer)
166   Yannick Carrasco
167   Thomas Lemar
168   João Félix (Styler)
169   Ángel Correa
170   Matheus Cunha
171   Antoine Griezmann (Matchwinner)
Paris Saint-Germain
172   Team Badge
173   Gianluigi Donnarumma (Stopper)
174   Sergio Ramos
175   Marquinhos (Captain)
176   Presnel Kimpembe (Warrior)
177   Achraf Hakimi
178   Nuno Mendes
179   Thilo Kehrer
180   Ander Herrera
181   Marco Verratti (Enforcer)
182   Danilo
183   Idrissa Gueye
184   Leandro Paredes
185   Georginio Wijnaldum
186   Neymar Jr (Styler)
187   Kylian Mbappé
188   Lionel Messi (Matchwinner)
189   Mauro Icardi
FC Bayern München
190   Team Badge
191   Manuel Neuer (Captain)
192   Benjamin Pavard
193   Alphonso Davies
194   Dayot Upamecano (Stopper)
195   Lucas Hernández
196   Tanguy Nianzou
197   Bouna Sarr
198   Joshua Kimmich (Warrior)
199   Marcel Sabitzer
200   Ryan Gravenberch
201   Leon Goretzka (Enforcer)
202   Jamal Musiala
203   Kingsley Coman
204   Leroy Sané (Styler)
205   Serge Gnabry
206   Thomas Müller
207   Robert Lewandowski (Matchwinner)
Borussia Dortmund
208   Team Badge
209   Gregor Kobel (Stopper)
210   Thomas Meunier
211   Raphaël Guerreiro
212   Manuel Akanji
213   Niklas Süle (Warrior)
214   Mats Hummels
215   Nico Schulz
216   Marius Wolf
217   Mahmoud Dahoud (Enforcer)
218   Jude Bellingham
219   Emre Can
220   Thorgan Hazard
221   Giovanni Reyna
222   Julian Brandt (Styler)
223   Marco Reus (Captain)
224   Karim Adeyemi
225   Donyell Malen (Matchwinner)
Bayer 04 Leverkusen
226   Team Badge
227   Lukas Hradecky (Captain)
228   Odilon Kossounou
229   Jonathan Tah
230   Jeremie Frimpong
231   Kerem Demirbay
232   Florian Wirtz
233   Moussa Diaby
234   Patrik Schick
RB Leipzig
235   Team Badge
236   Peter Gulácsi (Captain)
237   Angeliño
238   Willi Orbán
239   Konrad Laimer
240   Dani Olmo
241   Dominik Szoboszlai
242   Christopher Nkunku
243   André Silva
AFC Ajax
244   Team Badge
245   Remko Pasveer
246   Daley Blind
247   Perr Schuurs
248   Mohammed Kudus
249   Jurriën Timber
250   Dušan Tadić (Captain)
251   Edson Álvarez
252   Antony
PSV Eindhoven - UEL
253   Team Badge
254   Joël Drommel
255   Philipp Max
256   Olivier Boscagli
257   Marco van Ginkel (Captain)
258   Ibrahim Sangaré
259   Érick Gutiérrez
260   Cody Gakpo
261   Carlos Vinícius
SL Benfica
262   Team Badge
263   Odysseas Vlachodimos
264   Jan Vertonghen
265   Alex Grimaldo
266   André Almeida (Captain)
267   Julian Weigl
268   Rafa Silva
269   João Mário
270   David Neres
Real Betis Balompié - UEL
271   Team Badge
272   Rui Silva
273   Álex Moreno
274   Guido Rodríguez
275   Sergio Canales
276   William Carvalho
277   Nabil Fekir
278   Joaquin (Captain)
279   Borja Iglesias
Real Sociedad de Fútbol - UEL
280   Team Badge
281   Alejandro Remiro
282   Robin Le Normand
283   Aritz Elustondo
284   Asier Illarramendi (Captain)
285   David Silva
286   Mikel Merino
287   Mikel Oyarzabal
288   Alexander Isak
Villarreal CF - UECL
289   Team Badge
290   Gerónimo Rulli
291   Pau Torres
292   Raúl Albiol
293   Mario Gaspar (Captain)
294   Samuel Chukwueze
295   Dani Parejo
296   Arnaut Danjuma
297   Gerard Moreno
FC Porto
298   Team Badge
299   Diogo Costa
300   João Mário
301   Pepe (Captain)
302   Matheus Uribe
303   Otávio
304   Pepê
305   Evanilson
306   Mehdi Taremi
Sporting Clube de Portugal
307   Team Badge
308   Antonio Adán
309   Gonçalo Inácio
310   Sebastián Coates (Captain)
311   Pedro Porro
312   Daniel Bragança
313   Pedro Gonçalves
314   Matheus Nunes
315   Paulinho
AS Monaco - UEL
316   Team Badge
317   Alexander Nübel
318   Axel Disasi
319   Caio Henrique
320   Youssouf Fofana
321   Aleksandr Golovin
322   Gelson Martins
323   Kevin Volland
324   Wissam Ben Yedder (Captain)
AC Milan
325   Team Badge
326   Mike Maignan
327   Theo Hernández
328   Fikayo Tomori
329   Davide Calabria (Captain)
330   Sandro Tonali [/COLOR]
331   Brahim Díaz
332   Rafael Leão
333   Olivier Giroud [/COLOR]
FC Internazionale Milano
334   Team Badge
335   Samir Handanović (Captain)
336   Alessandro Bastoni
337   Milan Škriniar
338   Marcelo Brozović
339   Nicolò Barella
340   Hakan Çalhanoğlu
341   Edin Džeko
342   Lautaro
Juventus
343   Team Badge
344   Wojciech Szczęsny
345   Matthijs de Ligt
346   Leonardo Bonucci (Captain)
347   Juan Cuadrado
348   Alex Sandro
349   Manuel Locatelli
350   Federico Chiesa
351   Dušan Vlahović
SS Lazio - UEL
352   Team Badge
353   Pepe Reina
354   Francesco Acerbi
355   Manuel Lazzari
356   Sergej Milinković-Savić
357   Luis Alberto
358   Felipe Anderson
359   Mattia Zaccagni
360   Ciro Immobile (Captain)
AS Roma - UEL
361   Team Badge
362   Rui Patrício
363   Leonardo Spinazzola
364   Roger Ibañez
365   Chris Smalling
366   Lorenzo Pellegrini (Captain)
367   Bryan Cristante
368   Nicolò Zaniolo
369   Tammy Abraham
Celtic FC
370   Team Badge
371   Joe Hart
372   Carl Starfelt
373   Anthony Ralston
374   Josip Juranovic
375  Callum McGregor (Captain)
376   Kyogo Furuhashi
377   Daizen Maeda
378   Giorgios Giakoumakis
Rangers FC
379   Team Badge
380   Allan McGregor
381   Borna Barišić
382   James Taverner (Captain)
383   Glen Kamara
384   Joe Aribo
385   Ianis Hagi
386   Ryan Kent
387   Alfredo Morelos
Next Gen
388  Cole Palmer (Manchester City FC)
389  Harvey Elliott (Liverpool FC)
390  Oliver Skipp (Tottenham Hotspur)
391  Nuno Tavares (Arsenal FC)
392  Hannibal Mejbri (Manchester United)
393  Trevoh Chalobah (Chelsea FC)
394  Miguel Gutiérrez (Real Madrid CF)
395  Nico González (FC Barcelona)
396  Javi Serrano (Atlético de Madrid)
397  Josip Stanišić (FC Bayern München)
398  Jamie Bynoe-Gittens (Borussia Dortmund)
399  Amine Adli (Bayer 04 Leverkusen)
400  Joško Gvardiol (RB Leipzig)
401  Kenneth Taylor (AFC Ajax)
402  Noni Madueke (PSV Eindhoven)
403  Juan Miranda (Real Betis Balompié)
404  Yeremy (Villarreal CF)
405  Gonçalo Ramos (SL Benfica)
406  Manuel Ugarte (Sporting Clube de Portugal)
407  Benoït Badiashile (AS Monaco CF)
408  Pierre Kalulu (AC Milan)
409  Lucien Agoumé (FC Internazionale Milano)
410  Fabio Miretti (Juventus)
411  Raúl Moro (SS Lazio)
412  Nicola Zalewski (AS Roma)
413  Liel Abada (Celtic FC)
414  Calvin Bassey (Rangers FC)
Legend
415 Xabi Alonso (Liverpool FC)
416 Fernando Torres (Liverpool FC)
417 Frank Lampard (Chelsea FC)
418 Peter Schmeichel (Manchester United)
419 Eric Cantona (Manchester United)
420 Franco Baresi (AC Milan)
421 Andrea Pirlo (AC Milan)
422 Paul Gascoigne (Rangers FC)
423 Brian Laudrup (Rangers FC)
MOTM Signature Style
424 Jack Grealish (Manchester City FC)
425 Thiago Alcántara (Liverpool FC)
426 Angeliño (RB Leipzig)
427 Ivan Perisić (Tottenham Hotspur)
428 Gabriel Martinelli (Arsenal FC)
429 Bruno Fernandes (Manchester United)
430 Saïd Benrahma (West Ham United FC)
431 Toni Kroos (Real Madrid CF)
432 Ansu Fati (FC Barcelona)
433 Yannick Carrasco (Atlético de Madrid)
434 Achraf Hakimi (Paris Saint-Germain)
435 Tomas Müller (FC Bayern München)
436 Marco Reus (Borussia Dortmund)
437 Antony (AFC Ajax)
438 Nabil Fekir (Real Betis Balompié)
439 Mikel Oyarzabal (Real Sociedad de Fútbol)
440 Arnaut Danjuma (Villarreal CF)
441 Pepe (FC Porto)
442 Pedro Gonçalves (Sporting Clube de Portugal)
443 Kevin Vollano (AS Monaco CF)
444 Theo Hernández (AC Milan)
445 Milan Škriniar (FC Internazionale Milano)
446 Dušan Vlahović (Juventus)
447 Ciro Inmobile (SS Lazio)
448 Tammy Abraham (AS Roma)
449 Kiogo Furuhashi (Celtic FC)
450 Alfredo Morelos (Rangers FC)
100 CLUB
451 Thibout Courtois (Real Madrid CF)
452 João Cancelo (Manchester City FC)
453 David Alaba (Real Madrid CF)
454 Marco Verrati (Paris Saint-Germain)
455 Bernardo Silva (Manchester City FC)
456 Leroy Sané (FC Bayern München)
457 Mohamed Salah (Liverpool FC)
458 Kilian Mbappé (Paris Saint-Germain)
459 Karim Benzema -- Unbeatable -- (Real Madrid CF)
Black Edge Edition
460 Kevin de Bruyne (Manchester City FC)
461 Erling Haaland (Manchester City FC)
462 Mohamed Salah (Liverpool FC)
463 Vini Jr. (Real Madrid CF)
464 Pedri (FC Barcelona)
465 João Félix (Atlético de Madrid)
466 Lionel Messi (Paris Saint-Germain)
467 Robert Lewandowski (FC Bayern München)
468 Jude Bellingham (Borussia Dortmund)
Topps Heritage
469   Rúben Dias (Manchester City FC)
470   Dejan Kulusevski (Tottenham Hotspur)
471   Emile Smith Rowe (Arsenal FC)
472   Declan Rice (West Ham United FC)
473   Thibaut Courtois (Real Madrid CF)
474   Éder Militão (Real Madrid CF)
475   Gavi (FC Barcelona)
476   Memphis Depay (FC Barcelona)
477   Renan Lodi (Atlético de Madrid)
478   Ángel Correa (Atlético de Madrid)
479   Marquinhos (Paris Saint-Germain)
480   Danilo (Paris Saint-Germain)
481   Manuel Neuer (FC Bayern München)
482   Alphonso Davies (FC Bayern München)
483   Emre Can (Borussia Dortmund)
484   Julian Brandt (Borussia Dortmund)
485   Florian Wirtz (Bayer 04 Leverkusen)
486   Patrick Schick (Bayer 04 Leverkusen)
487   Emil Forsberg (RB Leipzig)
488   André Silva (RB Leipzig)
489   Antony (AFC Ajax)
490   Sergio Canales (Real Betis Balompié)
491   David Silva (Real Sociedad de Fútbol)
492   Alexander Isak (Real Sociedad de Fútbol)
493   Raúl Albiol (Villarreal CF)
494   Dani Parejo (Villarreal CF)
495   Mehdi Taremi (FC Porto)
496   Paulinho (Sporting Clube de Portugal)
497   Mike Maignan (AC Milan)
498   Lautaro (FC Internazionale Milano)
499   Leonardo Bonucci (Juventus)
500   Chris Smalling (AS Roma)
Pro Elite
SH1 Sterling (Manchester City FC)
SH2 Alexander-Arnold (Liverpool FC)
SH3 Tonali (AC Milan)
SH4 Valverde (Real Madrid CF)
SH5 Fati (FC Barcelona)
SH6 De Paul (Atlético de Madrid)
SH7 Neymar Jr (Paris Saint-Germain)
SH8 Goretzka (FC Bayern München)
SH9 Guerreiro (Borussia Dortmund)
SH10 Diaby (Bayer 04 Leverkusen)
SH11 Nkunku (RB Leipzig)
SH12 Tadić (AFC Ajax)
SH13 Fekir (Real Betis Balompié)
SH14 Isak (Real Sociedad de Fútbol)
SH15 Torres (Villarreal CF)
SH16 Otavio (FC Porto)
SH17 Gonçalves (Sporting Clube de Portugal)
SH18 Lautaro (FC Internazionale Milano)
SH19 Hart (Celtic FC)
SH20 Tavernier (Rangers FC)
Chrome Preview
CR1 Darwin Núñez (Liverpool FC)
CR2 Edouard Camavinga (Real Madrid CF)
CR3 Andreas Christensen (FC Barcelona)
CR4 Jan Oblak (Atlético de Madrid)
CR5 Gianluigi Donnarumma (Paris Saint-Germain)
CR6 Alphonso Davies (FC Bayern München)
CR7 Donyell Malen (Borussia Dortmund)
CR8 Florian Wirtz (Bayer 04 Leverkusen)
CR9 Dani Olmo (RB Leipzig)
CR10 Gelson Martins (AS Monaco CF)
CR11 Alex Moreno (Real Betis Balompié)
CR12 Mikel Oyarzabel (Real Sociedad de Fútbol)
CR13 Gerard Moreno (Villarreal CF)
CR14 Matheus Nunes (Sporting Clube de Portugal)
CR15 Aleksander Golovin (AS Monaco CF)
CR16 Rafael Leão (AC Milan)
CR17 Matthijs de Ligt (Juventus)
CR18 Felipe Anderson (SS Lazio)
CR19 David Turnbull (Celtic FC)
CR20 Joe Aribo (Rangers FC)
Tactic Card - Launch Bundle
T1 Agent Card
T2 Injury Card
T3 VAR Card
T4 Referee Card
Gold Limited Edition
LE1 Trent Alexander Arnold (Liverpool FC)
LE2 Vini Jr. (Real Madrid CF)
LE3 Riyad Mahrez (Manchester City FC)
LE4 Pau Torres (Villarreal CF)
LE5 Heung-Min Son (Tottenham Hotspur)
LE6 Martin Ødegaard (Arsenal FC)
LE7 Jadon Sancho (Manchester United)
LE8 Jarrod Bowen (West Ham United FC)
LE9 Pierre-Emerick Aubameyang (FC Barcelona)
LE10 Antoine Griezmann (Atlético de Madrid)
LE11 Nuno Mendes (Paris Saint-Germain)
LE12 Joshua Kimmich (FC Bayern München)
LE13 Marco Reus (Borussia Dortmund)
LE14 Moussa Diaby (Bayer 04 Leverkusen)
LE15 Dominik Szoboszlai (RB Leipzig)
LE16 Jurrien Timber (AFC Ajax)
LE17 William Carvalho (Real Betis Balompié)
LE18 Mikel Merino (Real Sociedad de Fútbol)
LE19 Matheus Uribe (FC Porto)
LE20 Pedro Porro (Sporting Clube de Portugal)
LE21 Wissam Ben-Yedder (AS Monaco CF)
LE22 Rafael Leão (AC Milan)
LE23 Marcelo Brozović (FC Internazionale Milano)
LE24 Federico Chiesa (Juventus)
LE25 Nicolò Zaniolo (AS Roma)
LE26 Giorgos Giakoumakis (Celtic FC)
LE27 Ryan Kent (Rangers FC)
Limited Edition Blue
LE BL 1 Luis Díaz (Liverpool FC)
LE BL 2 Ansu Fati (FC Barcelona)
LE BL 3 Serge Gnabry (FC Bayern München)
LE BL 4 Dušan Vlahović (Juventus)
Limited Edition -- Mega Tin Commander
LE CO 1 Virgil van Dijk (Liverpool FC)
LE CO 2 Antonio Rüdiger (Real Madrid CF)
LE CO 3 Marquinhos (Paris Saint-Germain)
LE CO 4 Niklas Süle (Borussia Dortmund)
Limited Edition -- Mega Tin Finisher
LE FI 1 Harry Kane (Tottenham Hotspur)
LE FI 2 Karim Benzema (Real Madrid CF)
LE FI 3 Kylian Mbappé (Paris Saint-Germain)
LE FI 4 Robert Lewandowski (FC Bayern München)
Limited Edition -- Mega Tin Playmaker
LE PL 1 Kevin De Bruyne (Manchester City FC)
LE PL 2 Luka Modrić (Real Madrid CF)
LE PL 3 João Félix (Atlético de Madrid)
LE PL 4 Christopher Nkunku (RB Leipzig)
Limited Edition -- Mega Tin Wonderkid
LE WO 1 Phil Foden (Manchester City FC)
LE WO 2 Eduardo Camavinga (Real Madrid CF)
LE WO 3 Jude Bellingham (Borussia Dortmund)
LE WO 4 Florian Wirtz (Bayer 04 Leverkusen)
Limited Edition Neon Booster -- Mini Tin
LE BB Erling Haaland (Borussia Dortmund) (Blue Burst)
LE GG Leon Goretzka (FC Bayern München) (Green Glow)
LE PP Lionel Messi (Paris Saint-Germain) (Purple Power)
LE RR Pedri (FC Barcelona) (Red Ray)
Genuine Autograph
AC-AE Anthony Elanga (Manchester United)
AC-AE Eduardo Camavinga (Real Madrid CF)
AC-AH Achraf Hakimi (Paris Saint-Germain)
AC-ANG Angeliño (RB Leipzig)
AC-ANT Anthony (AFC Ajax)
AC-AS Alex Sandro (Juventus)
AC-CA Casemiro (Real Madrid CF)
AC-DB Daniel Braganca (Sporting Clube de Portugal)
AC-DS Dominik Szoboszlai (RB Leipzig)
AC-ESR Emile Smith-Rowe (Arsenal FC)
AC-FT Ferran Torres (FC Barcelona)
AC-JF Joao Felix (Atlético de Madrid)
AC-KDB Kevin De Bruyne (Manchester City FC)
AC-KT Kenneth Taylor (AFC Ajax)
AC-LM Lionel Messi (Paris Saint-Germain)
AC-MA Marco Asensio (Real Madrid CF)
AC-MAR Lautaro Martinez (FC Internazionale Milano)
AC-MD Mahmoud Dahoud (Borussia Dortmund)
AC-MR Marco Reus (Borussia Dortmund)
AC-NA Nacho Fernandez (Real Madrid CF)
AC-NG Nico Gonzalez (FC Barcelona)
AC-NM Matheus Nunes (Sporting Clube de Portugal)
AC-NM Nuno Mendes (Paris Saint-Germain)
AC-PED Pedri (FC Barcelona)
AC-PK Pierre Kalulu (AC Milan)
AC-RD Ruben Dias (Manchester City FC)
AC-RM Riyad Mahrez (Manchester City FC)
AC-RS Marc-Andre Ter Stegen (FC Barcelona)
AC-RS Ryan Sessegnon (Tottenham Hotspur)
AC-RV Raphaël Varane (Manchester United)
AC-SG Serge Gnabry (FC Bayern München)
AC-TM Thomas Muller (FC Bayern München)
Genuine Autograph Combo
ACC-DA Sergiño Dest - Jordi Alba (FC Barcelona)
ACC-DF Memphis Depay - Ansu Fati (FC Barcelona)
ACC-GK Leon Goretzka - Joshua Kimmich (FC Bayern München)
ACC-KV Toni Kroos - Federico Valverde (Real Madrid CF)
ACC-MV Harry Maguire - Raphaël Varane (Manchester United)
ACC-NM Neymar Jr - Nuno Mendes (Paris Saint-Germain)
ACC-RB Marco Reus - Jude Bellingham (Borussia Dortmund)
ACC-SDB Bernardo Silva - Kevin de Bruyne (Manchester City FC)
ACC-SL Dominik Szoboszlai - Konrad Laimer (RB Leipzig)
ACC-TH Sandro Tonali - Theo Hernandez (AC Milan)
ACC-UH Dayot Upamecano - Lucas Hernandez (FC Bayern München)
ACC-VDG Virgil Van Dijk - Joe Gomez (Liverpool FC)
ACC-VR Vinicius Jr - Rodrygo (Real Madrid CF)
Player-Worn Memorabilia - Boot Relic
BR-CP Cole Palmer (Manchester City FC)
BR-JG Jack Grealish (Manchester City FC)
BR-JH Jordan Henderson (Liverpool FC)
Player-Worn Memorabilia - Jersey Relic
JR-ANG Angelino (RB Leipzig)
JR-ANT Antony (AFC Ajax)
JR-BS Bouna Sarr (FC Bayern München)
JR-CN Christopher Nkunku (RB Leipzig)
JR-DA David Alaba (Real Madrid CF)
JR-DB Daniel Braganca (Sporting Clube de Portugal)
JR-DU Dayot Upamecano (FC Bayern München)
JR-HMS Heung-Min Son (Tottenham Hotspur)
JR-JB Jude Bellingham (Borussia Dortmund)
JR-JG Jack Grealish (Manchester City FC)
JR-JGV Josko Gvardiol (RB Leipzig)
JR-KC Kingsley Coman (FC Bayern München)
JR-KL Konrad Laimer (RB Leipzig)
JR-LEA Rafael Leao (AC Milan)
JR-LG Leon Goretzka (FC Bayern München)
JR-LH Lucas Hernandez (FC Bayern München)
JR-MD Mahmoud Dahoud (Borussia Dortmund)
JR-MK Mohammed Kudus (AFC Ajax)
JR-MR Marco Reus (Borussia Dortmund)
JR-MTS Marc-Andre Ter Stegen (FC Barcelona)
JR-NJR Neymar Jr (Paris Saint-Germain)
JR-NM Nuno Mendes (Paris Saint-Germain)
JR-NZ Nicolo Zaniolo (AS Roma)
JR-RL Robert Lewandowski (FC Bayern München)
Celebratory Memento - Match Relic
MR-JA Jordi Alba (FC Barcelona) (UCL Title Winner)
MR-KB Karim Benzema (Real Madrid CF) (UCL Title Winner)
MR-KC Kingsley Coman (FC Bayern München) (UCL Title Winner)
MR-LM Lionel Messi (Paris Saint-Germain) (UCL Title Winner)
MR-MOD Luka Modric (Real Madrid CF) (UCL Title Winner)
MR-MS Mohamed Salah (Liverpool FC) (UCL Title Winner)
MR-TK Toni Kroos (Real Madrid CF) (UCL Title Winner)
MR-TM Thomas Muller (FC Bayern München) (UCL Title Winner)
Countdown Calendar
CC 1 Sadio Mané (FC Bayern München)
CC 2 Joe Gomez (Liverpool FC)
CC 3 Emil Forsberg (RB Leipzig)
CC 4 Denis Zakaria (Juventus)
CC 5 Manuel Neuer (FC Bayern München) (Stopper)
CC 6 Declan Rice (West Ham United FC) (Enforcer)
CC 7 Kylian Mbappé (Paris Saint-Germain) (Styler)
CC 8 Toni Kroos (Real Madrid CF) ( Limited Edition)
CC 9 Gianluigi Donnarumma (Paris Saint-Germain) ( Limited Edition)
CC 10 Alphonso Davies (FC Bayern München) (Limited Edition)
CC 11 Christopher Nkunku (RB Leipzig) (Limited Edition)
CC 12 Erling Haaland (Manchester City FC) (Hat-Trick Hero Limited Edition)
CC 13 Adrea Pirlo (AC Milan) (Legend Limited Edition)
Dynamo - Exclusive Edition
EE DY 1 Jack Grealish (Manchester City FC) (Aldi UK)
EE DY 2 Lionel Messi (Paris Saint-Germain) (Aldi UK)
Epic - Exclusive Edition
EE 1 De Bruyne (Manchester City FC) MAGAZINE MOTD #667
EE 2 Antony (Machester United - UEL) MAGAZINE MOTD #667
CRYSTAL PARALLEL
Chelsea FC
1   Team Badge (Crystal Parallel)
2   Edouard Mendy (Crystal Parallel)
3   Thiago Silva (Crystal Parallel)
4   Reece James (Crystal Parallel)
5   Ben Chilwell (Crystal Parallel)
6   N'Golo Kanté (Crystal Parallel)
7   Mateo Kovačić (Crystal Parallel)
8   Mason Mount (Crystal Parallel)
9   Kai Havertz (Crystal Parallel)

Manchester City FC
10   Team Badge (Crystal Parallel)
12   Nathan Aké (Crystal Parallel)
13   Rúben Dias (Captain) (Crystal Parallel)
15   John Stones (Crystal Parallel)
16   João Cancelo (Crystal Parallel)
17   Kyle Walker (Crystal Parallel)
19   İlkay Gündoğan (Crystal Parallel)
20   Kevin De Bruyne (Crystal Parallel)
22   Phil Foden (Crystal Parallel)
23   Jack Grealish (Crystal Parallel)
25   Oleksandr Zinchenko (Crystal Parallel)
26   Julián Álvarez (Crystal Parallel)
27   Erling Haaland (Crystal Parallel)

Liverpool FC
28   Team Badge (Crystal Parallel)
30   Trent Alexander-Arnold (Crystal Parallel)
31   Andy Robertson (Crystal Parallel)
33   Ibrahima Konaté (Crystal Parallel)
34   Joël Matip (Crystal Parallel)
36   Thiago Alcántara (Crystal Parallel)
37   Jordan Henderson (Captain) (Crystal Parallel)
38   Alex Oxlade-Chamberlain (Crystal Parallel)
39   Curtis Jones (Crystal Parallel)
40   Naby Keïta (Crystal Parallel)
42   Digo Jota (Crystal Parallel)
43   Darwin Núñez (Crystal Parallel)
44   Roberto Firmino (Crystal Parallel)

West Ham United FC - UECL
46   Team Badge (Crystal Parallel)
48   Kurt Zouma (Crystal Parallel)
50   Aaron Cresswell (Crystal Parallel)
51   Vladimir Coufal (Crystal Parallel)
52   Angelo Ogbonna (Crystal Parallel)
53   Arthur Masuaku (Crystal Parallel)
54   Ben Johnson (Crystal Parallel)
55   Issa Diop (Crystal Parallel)
56   Declan Rice (Captain) (Crystal Parallel)
58   Pablo Fornals (Crystal Parallel)
59   Manuel Lanzini (Crystal Parallel)
60   Nikola Vlašić (Crystal Parallel)
62   SaÏd Benrahma (Crystal Parallel)

Tottenham Hotspur
64   Team Badge (Crystal Parallel)
65   Hugo Lloris (Captain) (Crystal Parallel)
66   Sergio Reguilon (Crystal Parallel)
67   Ben Davies (Crystal Parallel)
68   Davinson Sánchez (Crystal Parallel)
71   Matt Doherty (Crystal Parallel)
72   Emerson Royal (Crystal Parallel)
73   Rodrigo Betancur (Crystal Parallel)
75   Ryan Sessegnon (Crystal Parallel)
76   Ivan Perišić (Crystal Parallel)
77   Lucas Moura (Crystal Parallel)
79   Harry Winks (Crystal Parallel)
80   Heung-Min Son (Crystal Parallel)

Arsena FC - UEL
82   Team Badge (Crystal Parallel)
84   Cédric Soares (Crystal Parallel)
85   Rob Holding (Crystal Parallel)
87   Kieran Tierney (Crystal Parallel)
88   Takehiro Tomiyasu (Crystal Parallel)
89   Fábio Vieira (Crystal Parallel)
90   Mohamed Elneny (Crystal Parallel)
91   Thomas Partey (Crystal Parallel)
93   Albert Sambi Lokonga (Crystal Parallel)
94   Martin Ødegaard (Captain) (Crystal Parallel)
97   Nicolas Pépé (Crystal Parallel)
98   Gabriel Martinelli (Crystal Parallel)
99   Eddie Nketiah (Crystal Parallel)

Machester United - UEL
100   Team Badge (Crystal Parallel)
102   Eric Bailly (Crystal Parallel)
104   Harry Maguire (Captain) (Crystal Parallel)
105   Luke Shaw (Crystal Parallel)
106   Aaron Wan-Bissaka (Crystal Parallel)
107   Alex Telles (Crystal Parallel)
108   Diogo Dalot (Crystal Parallel)
110   Fred (Crystal Parallel)
111   Donny van de Beek (Crystal Parallel)
112   Bruno Fernandes (Crystal Parallel)
114   Anthony Elanga (Crystal Parallel)
115   Anthony Martial (Crystal Parallel)
116   Marcus Rashford (Crystal Parallel)

Real Madrid CF
118   Team Badge (Crystal Parallel)
120   Éder Militão (Crystal Parallel)
121   Antonio Rüdiger (Crystal Parallel)
123   Ferland Mendy (Crystal Parallel)
124   Daniel Carvajal (Crystal Parallel)
125   Nacho (Crystal Parallel)
127   Federico Valverde (Crystal Parallel)
129   Toni Kroos (Crystal Parallel)
130   Eden Hazard (Crystal Parallel)
131   Eduardo Camavinga (Crystal Parallel)
132   Marco Asensio (Crystal Parallel)
134   Rodrygo (Crystal Parallel)
135   Karim Benzema (Captain) (Crystal Parallel)

FC Barcelona
136   Team Badge (Crystal Parallel)
138   Sergiño Dest (Crystal Parallel)
139   Jordi Alba (Crystal Parallel)
140   Eric García (Crystal Parallel)
142   Andreas Christensen (Crystal Parallel)
143   Ronald Araújo (Crystal Parallel)
144   Óscar Mingueza (Crystal Parallel)
146   Sergio Busquets (Captain) (Crystal Parallel)
147   Gavi (Crystal Parallel)
149   Sergi Roberto (Crystal Parallel)
150   Ansu Fati (Crystal Parallel)
151   Ferran Torres (Crystal Parallel)
152   Memphis Depay (Crystal Parallel)

Atlético de Madrid
154   Team Badge (Crystal Parallel)
156   Stefan Savić (Crystal Parallel)
157   Mario Hermoso (Crystal Parallel)
158   Felipe (Crystal Parallel)
160   Renan Lodi (Crystal Parallel)
161   Reinildo Mandava (Crystal Parallel)
162   Geoffrey Kondogbia (Crystal Parallel)
163   Koke (Captain) (Crystal Parallel)
164   Marcos Llorente (Crystal Parallel)
166   Yannick Carrasco (Crystal Parallel)
167   Thomas Lemar (Crystal Parallel)
169   Ángel Correa (Crystal Parallel)
170   Matheus Cunha (Crystal Parallel)

Paris Saint-Germain
172   Team Badge (Crystal Parallel)
174   Sergio Ramos (Crystal Parallel)
175   Marquinhos (Captain) (Crystal Parallel)
177   Achraf Hakimi (Crystal Parallel)
178   Nuno Mendes (Crystal Parallel)
179   Thilo Kehrer (Crystal Parallel)
180   Ander Herrera (Crystal Parallel)
182   Danilo (Crystal Parallel)
183   Idrissa Gueye (Crystal Parallel)
184   Leandro Paredes (Crystal Parallel)
185   Georginio Wijnaldum (Crystal Parallel)
187   Kylian Mbappé (Crystal Parallel)
189   Mauro Icardi (Crystal Parallel)

FC Bayern München
190   Team Badge (Crystal Parallel)
191   Manuel Neuer (Captain) (Crystal Parallel)
192   Benjamin Pavard (Crystal Parallel)
193   Alphonso Davies (Crystal Parallel)
195   Lucas Hernández (Crystal Parallel)
196   Tanguy Nianzou (Crystal Parallel)
197   Bouna Sarr (Crystal Parallel)
199   Marcel Sabitzer (Crystal Parallel)
200   Ryan Gravenberch (Crystal Parallel)
202   Jamal Musiala (Crystal Parallel)
203   Kingsley Coman (Crystal Parallel)
205   Serge Gnabry (Crystal Parallel)
206   Thomas Müller (Crystal Parallel)

Borussia Dortmund
208   Team Badge (Crystal Parallel)
210   Thomas Meunier (Crystal Parallel)
211   Raphaël Guerreiro (Crystal Parallel)
212   Manuel Akanji (Crystal Parallel)
214   Mats Hummels (Crystal Parallel)
215   Nico Schulz (Crystal Parallel)
216   Marius Wolf (Crystal Parallel)
218   Jude Bellingham (Crystal Parallel)
219   Emre Can (Crystal Parallel)
220   Thorgan Hazard (Crystal Parallel)
221   Giovanni Reyna (Crystal Parallel)
223   Marco Reus (Captain) (Crystal Parallel)
224   Karim Adeyemi (Crystal Parallel)

Bayer 04 Leverkusen
226   Team Badge (Crystal Parallel)
227   Lukas Hradecky (Captain) (Crystal Parallel)
228   Odilon Kossounou (Crystal Parallel)
229   Jonathan Tah (Crystal Parallel)
230   Jeremie Frimpong (Crystal Parallel)
231   Kerem Demirbay (Crystal Parallel)
232   Florian Wirtz (Crystal Parallel)
233   Moussa Diaby (Crystal Parallel)
234   Patrik Schick (Crystal Parallel)

RB Leipzig
235   Team Badge (Crystal Parallel)
236   Peter Gulácsi (Captain) (Crystal Parallel)
237   Angeliño (Crystal Parallel)
238   Willi Orbán (Crystal Parallel)
239   Konrad Laimer (Crystal Parallel)
240   Dani Olmo (Crystal Parallel)
241   Dominik Szoboszlai (Crystal Parallel)
242   Christopher Nkunku (Crystal Parallel)
243   André Silva (Crystal Parallel)

AFC Ajax
244   Team Badge (Crystal Parallel)
245   Remko Pasveer (Crystal Parallel)
246   Daley Blind (Crystal Parallel)
247   Perr Schuurs (Crystal Parallel)
248   Mohammed Kudus (Crystal Parallel)
249   Jurriën Timber (Crystal Parallel)
250   Dušan Tadić (Captain) (Crystal Parallel)
251   Edson Álvarez (Crystal Parallel)
252   Antony (Crystal Parallel)

PSV Eindhoven - UEL
253   Team Badge (Crystal Parallel)
254   Joël Drommel (Crystal Parallel)
255   Philipp Max (Crystal Parallel)
256   Olivier Boscagli (Crystal Parallel)
257   Marco van Ginkel (Captain) (Crystal Parallel)
258   Ibrahim Sangaré (Crystal Parallel)
259   Érick Gutiérrez (Crystal Parallel)
260   Cody Gakpo (Crystal Parallel)
261   Carlos Vinícius (Crystal Parallel)

SL Benfica
262   Team Badge (Crystal Parallel)
263   Odysseas Vlachodimos (Crystal Parallel)
264   Jan Vertonghen (Crystal Parallel)
265   Alex Grimaldo (Crystal Parallel)
266   André Almeida (Captain) (Crystal Parallel)
267   Julian Weigl (Crystal Parallel)
268   Rafa Silva (Crystal Parallel)
269   João Mário (Crystal Parallel)
270   David Neres (Crystal Parallel)

Real Betis Balompié - UEL
271   Team Badge (Crystal Parallel)
272   Rui Silva (Crystal Parallel)
273   Álex Moreno (Crystal Parallel)
274   Guido Rodríguez (Crystal Parallel)
275   Sergio Canales (Crystal Parallel)
276   William Carvalho (Crystal Parallel)
277   Nabil Fekir (Crystal Parallel)
278   Joaquin (Captain) (Crystal Parallel)
279   Borja Iglesias (Crystal Parallel)

Real Sociedad de Fútbol - UEL
280   Team Badge (Crystal Parallel)
281   Alejandro Remiro (Crystal Parallel)
282   Robin Le Normand (Crystal Parallel)
283   Aritz Elustondo (Crystal Parallel)
284   Asier Illarramendi (Captain) (Crystal Parallel)
285   David Silva (Crystal Parallel)
286   Mikel Merino (Crystal Parallel)
287   Mikel Oyarzabal (Crystal Parallel)
288   Alexander Isak (Crystal Parallel)

Villarreal CF - UECL
289   Team Badge (Crystal Parallel)
290   Gerónimo Rulli (Crystal Parallel)
291   Pau Torres (Crystal Parallel)
292   Raúl Albiol (Crystal Parallel)
293   Mario Gaspar (Captain) (Crystal Parallel)
294   Samuel Chukwueze (Crystal Parallel)
295   Dani Parejo (Crystal Parallel)
296   Arnaut Danjuma (Crystal Parallel)
297   Gerard Moreno (Crystal Parallel)

FC Porto
298   Team Badge (Crystal Parallel)
299   Diogo Costa (Crystal Parallel)
300   João Mário (Crystal Parallel)
301   Pepe (Captain) (Crystal Parallel)
302   Matheus Uribe (Crystal Parallel)
303   Otávio (Crystal Parallel)
304   Pepê (Crystal Parallel)
305   Evanilson (Crystal Parallel)
306   Mehdi Taremi (Crystal Parallel)

Sporting Clube de Portugal
307   Team Badge (Crystal Parallel)
308   Antonio Adán (Crystal Parallel)
309   Gonçalo Inácio (Crystal Parallel)
310   Sebastián Coates (Captain) (Crystal Parallel)
311   Pedro Porro (Crystal Parallel)
312   Daniel Bragança (Crystal Parallel)
313   Pedro Gonçalves (Crystal Parallel)
314   Matheus Nunes (Crystal Parallel)
315   Paulinho (Crystal Parallel)

AS Monaco - UEL
316   Team Badge (Crystal Parallel)
317   Alexander Nübel (Crystal Parallel)
318   Axel Disasi (Crystal Parallel)
319   Caio Henrique (Crystal Parallel)
320   Youssouf Fofana (Crystal Parallel)
321   Aleksandr Golovin (Crystal Parallel)
322   Gelson Martins (Crystal Parallel)
323   Kevin Volland (Crystal Parallel)
324   Wissam Ben Yedder (Captain) (Crystal Parallel)

AC Milan
325   Team Badge (Crystal Parallel)
326   Mike Maignan (Crystal Parallel)
327   Theo Hernández (Crystal Parallel)
328   Fikayo Tomori (Crystal Parallel)
329   Davide Calabria (Captain) (Crystal Parallel)
330   Sandro Tonali (Crystal Parallel)
331   Brahim Díaz (Crystal Parallel)
332   Rafael Leão (Crystal Parallel)
333   Olivier Giroud (Crystal Parallel)

FC Internazionale Milano
334   Team Badge (Crystal Parallel)
335   Samir Handanović (Captain) (Crystal Parallel)
336   Alessandro Bastoni (Crystal Parallel)
337   Milan Škriniar (Crystal Parallel)
338   Marcelo Brozović (Crystal Parallel)
339   Nicolò Barella (Crystal Parallel)
340   Hakan Çalhanoğlu (Crystal Parallel)
341   Edin Džeko (Crystal Parallel)
342   Lautaro (Crystal Parallel)

Juventus
343   Team Badge (Crystal Parallel)
344   Wojciech Szczęsny (Crystal Parallel)
345   Matthijs de Ligt (Crystal Parallel)
346   Leonardo Bonucci (Captain) (Crystal Parallel)
347   Juan Cuadrado (Crystal Parallel)
348   Alex Sandro (Crystal Parallel)
349   Manuel Locatelli (Crystal Parallel)
350   Federico Chiesa (Crystal Parallel)
351   Dušan Vlahović (Crystal Parallel)

SS Lazio - UEL
352   Team Badge (Crystal Parallel)
353   Pepe Reina (Crystal Parallel)
354   Francesco Acerbi (Crystal Parallel)
355   Manuel Lazzari (Crystal Parallel)
356   Sergej Milinković-Savić (Crystal Parallel)
357   Luis Alberto (Crystal Parallel)
358   Felipe Anderson (Crystal Parallel)
359   Mattia Zaccagni (Crystal Parallel)
360   Ciro Immobile (Captain) (Crystal Parallel)

AS Roma - UEL
361   Team Badge (Crystal Parallel)
362   Rui Patrício (Crystal Parallel)
363   Leonardo Spinazzola (Crystal Parallel)
364   Roger Ibañez (Crystal Parallel)
365   Chris Smalling (Crystal Parallel)
366   Lorenzo Pellegrini (Captain) (Crystal Parallel)
367   Bryan Cristante (Crystal Parallel)
368   Nicolò Zaniolo (Crystal Parallel)
369   Tammy Abraham (Crystal Parallel)

Celtic FC
370   Team Badge (Crystal Parallel)
371   Joe Hart (Crystal Parallel)
372   Carl Starfelt (Crystal Parallel)
373   Anthony Ralston (Crystal Parallel)
374   Josip Juranovic (Crystal Parallel)
375  Callum McGregor (Captain) (Crystal Parallel)
376   Kyogo Furuhashi (Crystal Parallel)
377   Daizen Maeda (Crystal Parallel)
378   Giorgios Giakoumakis (Crystal Parallel)

Rangers FC
379   Team Badge (Crystal Parallel)
380   Allan McGregor (Crystal Parallel)
381   Borna Barišić (Crystal Parallel)
382   James Taverner (Captain) (Crystal Parallel)
383   Glen Kamara (Crystal Parallel)
384   Joe Aribo (Crystal Parallel)
385   Ianis Hagi (Crystal Parallel)
386   Ryan Kent (Crystal Parallel)
387   Alfredo Morelos (Crystal Parallel)
1st Edition -- Base Card
1   Ederson (Stopper) (Manchester City)
13   Rúben Dias (Captain) (Manchester City FC)
14   Aymeric Laporte (Warrior) (Manchester City)
16   João Cancelo (Player card) (Manchester City FC)
18   Rodri (Enforcer) (Manchester City)
20   Kevin De Bruyne (Player card) (Manchester City FC)
22   Phil Foden (Player card) (Manchester City FC)
28   Liverpool FC (Team Badge Card)
31   Andy Robertson (Player card) (Liverpool FC)
33   Ibrahima Konaté (Player card) (Liverpool FC)
41   Luis Díaz (Styler) (Liverpool FC)
42   Digo Jota (Player card) (Liverpool FC)
45   Mohamed Salah (Matchwinner) (Liverpool FC)
46  West Ham United FC (Team Badge Card)
50   Aaron Cresswell (Player card) (West Ham United FC)
59   Manuel Lanzini (Player card) (West Ham United FC)
90   Mohamed Elneny (Player card) (Arsenal FC)
94   Martin Ødegaard (Captain) (Arsenal FC)
98   Gabriel Martinelli (Player card) (Arsenal FC)
118   Real Madrid CF (Team Badge Card)
119   Thibault Courtois (Stopper) (Real Madrid CF)
120   Éder Militão (Player card) (Real Madrid CF)
122   David Alaba (Warrior) (Real Madrid CF)
128   Luka Modrić (Styler) (Real Madrid CF)
130   Eden Hazard (Player card) (Real Madrid CF)
131   Eduardo Camavinga (Player card) (Real Madrid CF)
133   Vini Jr. (Matchwinner) (Real Madrid CF)
137   Marc-André ter Stegen (Stopper) (FC Barcelona)
141   Gerard Piqué (Warrior) (FC Barcelona)
143   Ronald Araújo (Player card) (FC Barcelona)
146   Sergio Busquets (Captain) (FC Barcelona)
147   Gavi (Player card) (FC Barcelona)
148   Pedri (Styler) (FC Barcelona)
150   Ansu Fati (Player card) (FC Barcelona)
153   Pierre-Emerick Aubameyang (Matchwinner) (FC Barcelona)
172   Paris Saint-Germain (Team Badge Card)
208   Borussia Dortmund (Team Badge Card)
211   Raphaël Guerreiro (Player card) (Borussia Dortmund)
213   Niklas Súle (Warrior) (Borussia Dortmund)
217   Mahamoud Dahoud (Enforcer) (Borussia Dortmund)
218   Jude Bellingham (Player card) (Borussia Dortmund)
221   Giovanni Reyna (Player card) (Borussia Dortmund)
222   Julian Brandt (Styler) (Borussia Dortmund)
223   Marco Reus (Captain) (Borussia Dortmund)
224   Karim Adeyemi (Player card) (Borussia Dortmund)
226   Bayer 04 Leverkusen (Team Badge Card)
227   Lukas Hradecky (Captain) (Bayer 04 Leverkusen)
232   Florian Wirtz (Player card) (Bayer 04 Leverkusen)
233   Moussa Diaby (Player card) (Bayer 04 Leverkusen)
234   Patrik Schick (Player card) (Bayer 04 Leverkusen)
246   Daley Blind (Player card) (AFC Ajax)
249   Jurrién Timber (Player card) (AFC Ajax)
250   Dušan Tadić (Captain) (AFC Ajax)
251   Edson Álvarez (Player card) (AFC Ajax)
258   Ibrahim Sangaré (Player card) (PSV Eindhoven)
260   Cody Gakpo (Player card) (PSV Eindhoven)
265   Alex Grimaldo (Player card) (SL Benfica)
266   André Almeida (Captain) (SL Benfica)
267   Julian Weigl (Player card) (SL Benfica)
269   João Mário (Player card) (SL Benfica)
270   David Neres (Player card) (SL Benfica)
293   Mario Gaspar (Captain) (Villarreal CF)
298   FC Porto (Team Badge Card)
302   Matheus Uribe (Player card) (FC Porto)
303   Otávio (Player card) (FC Porto)
325   AC Milan (Team Badge Card)
326   Mike Maignan (Player card) (AC Milan)
328   Fikayo Tomori (Player card) (AC Milan)
334   FC Internazionale Milano (Team Badge Card)
346   Leonardo Bonucci (Captain) (Juventus)
347   Juab Cuadrado (Player card) (Juventus)
355   Manuel Lazzari (Player card) (SS Lazio)
358   Felipe Anderson (Player card) (SS Lazio)
360   Ciro Immobile (Captain) (SS Lazio)
363   Leonardo Spinazzola (Player card) (AS Roma)
365   Chris Smalling (Player card) (AS Roma)
382   James Taverner (Captain) (Rangers FC)
384   Joe Aribo (Player card) (Rangers FC)
385   Ianis Hagi (Player card) (Rangers FC)
386   Ryan Kent (Player card) (Rangers FC)
1st Edition -- Holografic Foil
389   Harvey Elliott (Liverpool) (Next Gen)
404   Yeremy (Villarreal CF) (Next Gen)
417   Frank Lampard (Chelsea) (Legend)
422   Paul Gascoigne (Rangers) (Legend)
424   Jack Grealish (Manchester City) (MOTM Signature Style)
436   Marco Reus (Borussia Dortmund) (MOTM Signature Style)
446   Dušan Vlahović (Juventus) (MOTM Signature Style)
448   Tammy Abraham (AS Roma) (MOTM Signature Style)
Exclusive Edition Game Changer (Exclusivo 1st Edition)
EE GC 1   Bernardo Silva (Manchester City) (Exclusive Edition Game Changer) Tesco
EE GC 2   Digo Jota (Liverpool) (Exclusive Edition Game Changer) Asda
EE GC 3   Kevin De Bruyne (Manchester City) (Exclusive Edition Game Changer) Sainsbury's
EE GC 4   Harry Kane (Tottenham Hotspur) (Exclusive Edition Game Changer) Whsmiths
EE GC 5   Luka Modrić (Real Madrid CF) (Exclusive Edition Game Changer) One Stops
EE GC 6   Ferran Torres (FC Barcelona) (Exclusive Edition Game Changer) Martin McColl's
EE GC 7   Neymar Jr. (Paris Saint-Germain) (Exclusive Edition Game Changer) CO-OP
EE GC 8   Tammy Abraham (AS Roma) (Exclusive Edition Game Changer) Republic of Irlanda
EE GC 9   Leroy Sané (FC Bayern München) (Exclusive Edition Game Changer) Topps.com
---